Portugal's housing prices continue to rise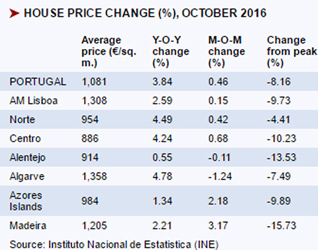 Portugal's housing prices continue to rise strongly, amidst improved economic conditions. Property prices in Portugal rose by 3.84% (2.97% in real terms) in October 2016 from a year earlier, to an average price of €1,081 (US$1,130) per square metre (sq. m.), based on figures released by Statistics Portugal (INE). After more than three years of depression, house prices in Portugal started to recover in 2014.
By property type:
Flats prices rose by 3.31% (2.44% in real terms) y-o-y in October 2016
Villa prices rose by 4.77% (3.89% in real terms) y-o-y in October 2016
Demand is rising strongly. Total transactions rose by 15.8% to 31,535 units from a year ago in the third quarter of 2016, according to INE. "Sales have increased hugely this year and we've seen a significant shift in buyer profile as increasing numbers of investors realize the potential of the Portuguese real estate sector."
However the government's plan to increase taxes on high-value real property in 2017 to pay for higher pensions and state worker salaries makes the luxury property market outlook uncertain.
There are no restrictions on foreign property ownership in Portugal and transaction costs are generally low.
Portugal will grant a 5-year residency permit to non-EU citizens who buy a minimum of €500,000 worth of property. The permit allows holders to work or study, as well as to travel in Schengen countries. They can opt to apply for permanent residency after five years.
The economy isbelieved to have grown by a meagre 1% this year, and by is expected to 1.1% in 2017, after expanding by an average of just 0.2% in the past 15 years, according to the International Monetary Fund (IMF).